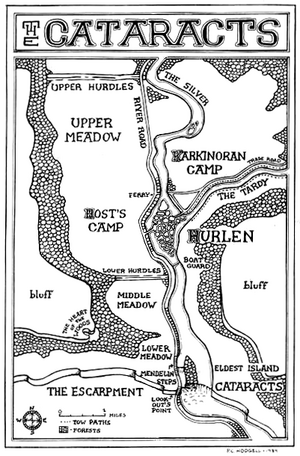 The Hurdles, comprising the Upper Hurdles and Lower Hurdles, are natural stone ledges or steps that separate the meadows of the River Silver's western bank near Hurlen into two sections, the Upper Meadow (between the Upper and Lower Hurdles), and the Middle Meadow (below the Lower Hurdles and separated from the Lower Meadow by a wooded area).[1]
As obstacles, they were part of the defensive planning of the Northern Host of the Kencyrath when it prepared to fight the Waster Horde.
References
Edit
↑ Dark of the Moon, "Maps"
Ad blocker interference detected!
Wikia is a free-to-use site that makes money from advertising. We have a modified experience for viewers using ad blockers

Wikia is not accessible if you've made further modifications. Remove the custom ad blocker rule(s) and the page will load as expected.